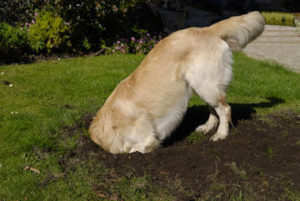 You can't see his face, but this is Brady. There's one thing Brady loves to do, more than anything else in the world. Can you guess what that might be?
Brady loves to dig holes. He's like a lot of dogs. Dogs dig for a number of reasons: they're searching for warmer or cooler earth to lie down in; they have a bone, toy, or other treasure they want to hide; they hear moles and other underground creatures and want to get to them; or for the sheer entertainment value of it – when you're a dog, digging is fun!
Having a yard full of holes is not so fun. It can be dangerous for your kids, other pets, family, friends and neighbors to enter your yard when the dog's dug many holes in it. You don't want someone to fall or twist an ankle!
Holes aren't an attractive lawn feature, and when you combine that with the impact dog urine and droppings can have on your grass, it doesn't take too long for your yard to start looking pretty rough. In appearance-conscious Massachusetts neighborhoods, that can be problem – nobody wants to be that family.
K9 Grass Keeps Dogs from Digging
If you're tired of having holes in your yard, and you know your dog's not going to stop digging, it's time to change your lawn care situation. K9 Grass is a specially designed artificial grass that's durable, drainable, and antimicrobial. It's the perfect surface for dogs to play on. It always looks great, there's no maintenance required, and best of all, even the most determined dog can't dig through it.
Brady's people were very, very skeptical that K9 Grass could stand up to his passionate hole digging. We had him play on an already installed lawn for an entire day – from early in the morning until the skies grew dark – and there were no holes. In fact, after giving it a few tries, Brady quickly figured out that he wasn't going to be able to dig through the K9 Grass. He devoted the rest of his energy to other fun activities, including chasing a ball around the yard and barking at falling leaves.
What worked for Brady's people can work for your family as well. If you'd like to learn more about K9 Grass, please fill out the form. A member of our team will be happy to answer all of your questions.